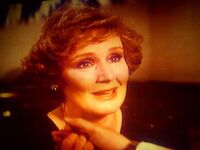 Susan Philby (Formerly Fairgate) is the ex-wife of Sid Fairgate and the mother of Annie Fairgate. Her marriage to Sid ended some 17 years prior to beginning of Knots Landing, when he met and fell in love with Karen Cooper and divorced Susan in order to be with Karen.
Susan appears in the eighth episode of the first season, "Civil Wives" from Pittsburgh to meet with Sid over some paperwork concerning their daughter. Upon arrival Susan introduces herself as Sid's former wife and she invites Susan for dinner and to stay for the duration via a indirect offer from Diana Fairgate, much to Sid's chagrin.
However despite repeated mentions of an attorney, there really was no attorney nor any plans made for an arrangement. The entire visit was in fact an attempt by Susan to get Sid back or at the very least get him away from Karen. Susan was portrayed by actress Claudette Nevins.